Training & Resources
The first step to a career in construction is an apprenticeship. This is a training program where you get paid to learn while working on actual construction sites. Learn more about each of the trades by searching below.
Bricklayers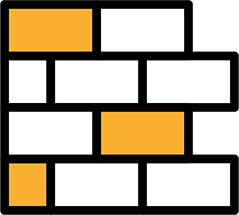 Bricklayers are skilled trowel trades workers, including bricklayers, tile setters, plasterers, cement masons, marble masons, restoration workers, stonemasons, helpers or finishers, terrazzo and mosaic workers. Their work includes buildings, homes, stadiums, monuments and landmarks throughout the United States and Canada. Bricklayers must understand and work from blueprints, and be able to use measuring, leveling, and aligning tools to check their work. See more at www.bacweb.org.
Not sure where to start?
That's what we're here for – to help you find the path to build a life that works.
Contact us