Training & Resources
The first step to a career in construction is an apprenticeship. This is a training program where you get paid to learn while working on actual construction sites. Learn more about each of the trades by searching below.
Carpenters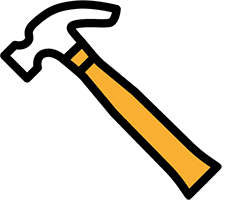 Commercial and residential carpenter trades include floor layers, millwrights, pile drivers, interior systems carpenters, cabinetmakers and trade show carpenters. They build forms for concrete and frame buildings, walls, footings, columns and stairs. Carpenters also install doors, windows, storefronts and hand rails, and build cabinets, counter tops and finished stair handrails. Many carpenters do welding. Carpenters must read blueprints, measure accurately and calculate dimensions. See more at www.carpenters.org.
Not sure where to start?
That's what we're here for – to help you find the path to build a life that works.
Contact us