Training & Resources
The first step to a career in construction is an apprenticeship. This is a training program where you get paid to learn while working on actual construction sites. Learn more about each of the trades by searching below.
Plasterers & Cement Masons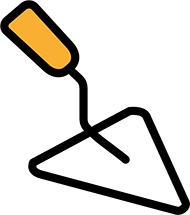 Skilled plasterers and cement masons work on buildings, roads, bridges, canals, dams and reservoirs. They are responsible for all concrete construction, including pouring and finishing of slabs, steps, wall tops, curbs and gutters, sidewalks, paving and other concrete construction. They finish interior walls and ceilings of buildings, apply plaster on masonry, metal, wire lath or gypsum. See more at www.opcmia.org.
Not sure where to start?
That's what we're here for – to help you find the path to build a life that works.
Contact us