Training & Resources
The first step to a career in construction is an apprenticeship. This is a training program where you get paid to learn while working on actual construction sites. Learn more about each of the trades by searching below.
Roofers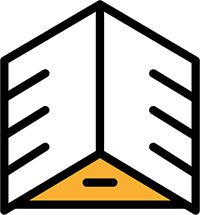 Roofers install new roofs and remove old roofs using a variety of materials. Roofers install hot built-up and single-ply roofing systems on mostly commercial/ industrial structures. Roofers also work as waterproofers installing moisture-resistant products on below-grade structures and other surfaces to prevent water intrusion into buildings. The work is performed in all weather conditions. Roofers also operate a variety of mechanical and electrical equipment associated with the installation of roofing and waterproofing products. See more at www.unionroofers.com.
The Roofer's are committed to advancing women's opportunities. http://www.unionroofers.com/Who-We-Are/Women-in-Roofing.aspx
Not sure where to start?
That's what we're here for – to help you find the path to build a life that works.
Contact us