Training & Resources
The first step to a career in construction is an apprenticeship. This is a training program where you get paid to learn while working on actual construction sites. Learn more about each of the trades by searching below.
Plumbers, Pipefitters, & Sprinklerfitters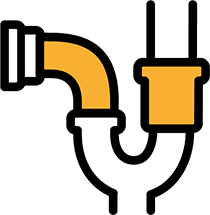 The pipe trades include plumbers, pipefitters and sprinklerfitters, as well as service technicians. All of these jobs involve the installation, remodeling or maintenance of systems that carry water, steam, air and other liquids or gases necessary for sanitation, industrial production, heating and air conditioning, and many other uses. Workers measure, cut, and bend pipe, as well as weld, braze, caulk, solder, glue or thread joints at residential and commercial job sites. See more at www.ua.org.
Not sure where to start?
That's what we're here for – to help you find the path to build a life that works.
Contact us