Training & Resources
The first step to a career in construction is an apprenticeship. This is a training program where you get paid to learn while working on actual construction sites. Learn more about each of the trades by searching below.
Operating Engineers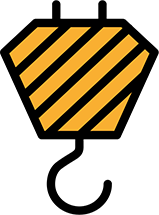 Operating engineers operate heavy construction equipment such as cranes, bulldozers, pavers, trench excavators and many other kinds of equipment used in constructing buildings, dams, airports and highways. Operating engineers also work in the sand and gravel, cement and asphalt industries; in shipyards; on water dredges, oil refineries and oil pipelines; in sewer and water construction; in ports of major cities and many other industries. Most work is done outdoors and depends on the weather. See more at www.iuoe.org.
Not sure where to start?
That's what we're here for – to help you find the path to build a life that works.
Contact us